Our Story...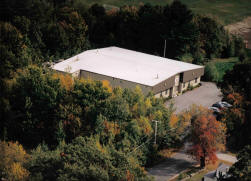 Founded in 1974, Precision Tape & Label started out as a small tape converter specializing in printed border tapes and the like. Eventually the company expanded its product line by including labels as well, manufacturing printed products for various industries. Ralph Secord, a printer since the company's inception, shared a very deep interest in the company and became part owner. Then, in a bold move to live his dream of owning his own printing company, Ralph purchased Precision Tape & Label in 1992 after nearly 20 years as a printer and hands-on manager. A printer at heart, Ralph's incredible knowledge of the industry coupled with his intuitive business sense created the perfect formula for a successful tape and label company.
Shortly after the purchase, Ralph's wife Deborah and daughter Nicolle joined the company making it very much a family business. However, Ralph's untimely death in 1998 left the

family with some tough decisions. With many wonderfully supportive customers and truly dedicated employees, some working with Ralph for nearly 20 years, the decision was obvious. The business would go on with Ralph's values in mind. Today, 40 years after printing its first roll of tape, Precision Tape & Label is stronger than ever and continues to be a strong competitor in the flexographic printing industry. Ralph's other daughter, Melissa, has also joined the company part-time and we are even preparing the third generation for future employment!

Our Mission...
Precision Tape & Label is an established manufacturer of pressure sensitive and non-pressure sensitive labels, tapes, tags and decals as well as a respected supplier of related products and services. Our goal is very clear: To provide the highest quality products at the most competitive price possible. We will never sacrifice quality for price and we will never sacrifice our reputation for a greater bottom line.
Enjoying the pleasure of providing quality products and services for over 30 years, we have had the opportunity to accumulate a measureless amount of experience related to the flexographic printing industry. Our product lines are consistently growing, allowing us to continue to furnish our customers with the most up-to-date products available. Furthermore, Precision Tape's incessant devotion to finding the answers to your most demanding applications gives you the resource that is not only dependable, but one which understands that not all labels are created equal!
A quick guide to what we can do for you:
One to six color custom printing (including 4 color process)
Roll, sheet, and fanfold finished formats available
Laminating and varnishing
Standard and custom die cut shapes
RUSH quotes available within one hour of request
Remarkably diverse selection of pressure sensitive and non-pressure sensitive materials
Bar Code labels (fixed or consecutively numbered)
UL Recognized label/tag converter (consecutive serialization available)
Window decals
Bumper stickers
Laser/Inkjet sheets
Thermal Transfer/Direct Thermal labels
Thermal Transfer ribbons
Coupon constructions
Piggyback labels
Pinfed labels for dot matrix printers
Technical and design assistance at no extra charge.
Packaging/Sealing tapes slit to specifications
Slitting/Converting